Discussion Starter
·
#1
·
I finally got around to replacing my stock brushed aluminum dash trim. I took the liberty of documenting the process since I found that there wasn't really a complete guide out there. I found bits of information and spotty videos here and there, so hopefully this will help fellow GLA/CLA owners.
First off, my car is a 2016 GLA45, but like others have mentioned before, this should work on other GLA/CLA models, but don't quote me on that.
TOOLS:
- Mercedes Vent Pull Tool
There are a lot of variations out there, but I picked up this kit from Amazon (USA). I don't think I'll need the other tools in the kit, but it came with 2 pullers, so I figured it would be nice to have a backup. This tool is essential in removing the vents (probably the most difficult part). I've seen/heard people creating their own pull tool with wires and old hangers, but this takes the guess work out of it, and it just plain works.
OTC 6711 Dashboard Service Tool Kit for Mercedes-Benz

- Dash/Trim Removal Tools
Simple pry tools used to help lift the actual dash trim off the vehicle. I saw videos of people using these tools to remove the vents, but believe me, the vents are really stuck in there, especially if it's a new vehicle. Be warned that using pry tools around the edges of your plastic vents could, and most likely will, cause damage to your vents and/or dash trim.
KINGLAKE Panel Trim Removal Tool Kit 4Pcs
(Note: I've seen kits that contain both pull and pry tools, but they weren't specific about working with MB vehicles, and most had pull tools that didn't seem quite long enough, so I can't personally vouch for them.)

- T20 Torx Screwdriver
You'll need this to remove the 2 screws behind the screen, and the one behind the vents. Just be sure you have a long enough handle to reach behind the screen without scratching anything.
Stanley T20 Standard Torx Screwdriver
- Replacement trim of your choice
I got my dash from CarbonWorks in the UK. It was out of the country for me, but their products are pretty high-quality and use real carbon fibre. I probably could have saved some money with a cheaper faux CF trim piece, but I prefer the real thing in this case. If you look closely, there are slight imperfections in the fibers, but it really adds to the authenticity of the piece, and it just looks fantastic. They were super-helpful and friendly, and even though it was shipped from the UK, I got the piece within a week. Amazing! My car is left hand drive, but they also have right hand drive versions available.
CarbonWurks - Mercedes CLA/GLA Carbon Fibre Dashboard Trim
INSTALLATION:
STEP 1: Screen Removal
Carefully pry the screw covers behind the screen. Ones I've seen were rubber, but my 2016 GLA45 were plastic. They don't fully pop out, but they open just enough to fit your screwdriver back there.
Once unscrewed, lift up to remove the screen, and take care not to yank the wires. When removing the cables, remember which goes where, and they are easy to discern from each other... one has a round connector, and the other square. Each cable has a tiny tab that needs to be pushed in to unhook them (they don't just pull out).
After unhooking the screen, place it somewhere safe where it won't accidentally drop and/or get scratched up. Next you will have to remove the mounting plate.
STEP 2: Mounting Bracket Removal
They can be hard to see, but there are 2 metal spring tabs near the middle of the bracket. Carefully pry near the tabs. Don't attempt to force it off from either edge, or you may risk cracking the plate.
STEP 3: Vent Removal
This is probably the toughest step, especially if you don't have the proper tool. Shine a light into the vent to reveal a tiny, rectangular hole. This is where you will slip the vent pull hook into.
Once you have the tool hooked in, you will need to pull up and out at a 45º angle. Pulling them straight out could cause you to accidentally rock the tool against the edge of the vent, slipping the tool out of the hole. Doing this while pulling full-force could cause serious scratches to your vent.
While pulling at an angle,
you will need to apply a lot of force
... It could feel scary at first since they are really stuck in there, but don't worry. They are only held in there with the metal spring tabs, so you won't be ripping any wires or screws out.
I'd suggest keeping your free hand cupping the vent,
but away from the tool. You don't want to cut yourself if the tool accidentally slips
. Having an extra hand in place can help avoid the vent from flying around once it pops out...
BUT BE CAREFUL!
.
Repeat this for the remaining 2 vents. Note that space can get tight with the vent nearest your steering wheel. You may also want to wrap a towel around your wheel to prevent damage in the event the vent comes flying out.
STEP 4: Dashboard trim Removal
Take your T20 torx screwdriver, and remove the screw found in the 3rd vent slot (from the drivers side). Be sure to grab the screw as it comes out. The last thing you want is to drop it behind your dash and have it rattling around, lost forever.
You will need your pry tools for this next part. I used the larger flat-edged tool to start prying the edges and the tapered tip tool to keep the edge up. Prying from the bottom, I worked from the passenger side down to the drivers side. The dash is held in place by the same metal spring tabs you've been seeing, so it may take a bit of prying.
Work slowly and be careful not to damage the parts below where you pry (vinyl/leather parts above the glove). If you would like to be extra cautious, try taping those parts up with painters tape that can be easily removed and won't cause damage.
Once you feel one side give way, don't force the entire piece out by pulling on one side. You may crack your trim piece and/or break the tabs. Slowly work your way around until you feel the entire piece lift equally from the dash.
STEP 5: Installing the new trim
Now grab your new trim piece and begin putting it into place. Take note of where the holes meet the tabs. Those are the places you will need to gently push in.
Once you get your new dash in,
DON'T FORGET TO REPLACE YOUR TORX SCREW!
The last thing you want is to pop your vents back in and realize... "Crap! I have to take that vent out again?!" Lol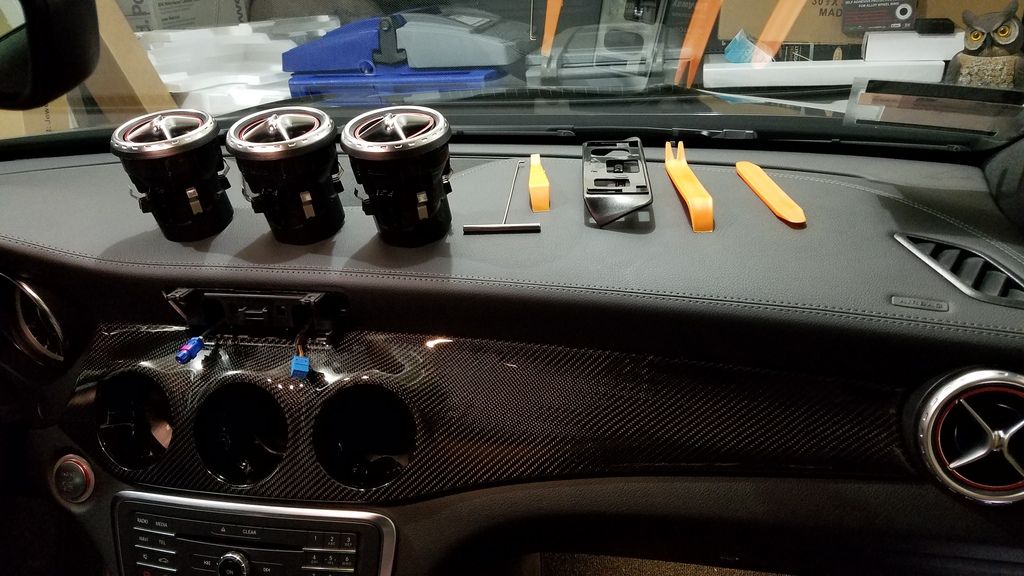 The vents pop back in very easily, and they are marked as to where the top goes.
Last bit is to replace the screen. Fairly self-explanatory (I hope).
STEP 6: Grab a beer, and feel awesome!
Congratulations! You are done, my friend! Now go grab a cold one, and bask in the glory that you have accomplished. I am very happy with my new dash, and I really have to thank the folks over at CarbonWurks for such a fine piece. My GLA has gone from looking "entry level" to looking sleek and lustrous. The black carbon with the red vents really match the entire look of my car now, and I couldn't be happier.
Now to put on my tint and black out my badges...
Hopefully this has helped some of you do-it-yourselfers out there. Happy driving, everyone! Cheers!