Not really. despite my best efforts I'm putting lap times down like Marge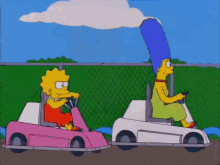 We're not on track together, 'cause Jimbo is in a different league than me. I just moved up from Green to Blue
Took 2 days driving buttonwillow to get down to 2:25's, meanwhile gold group miatas with zero power mods are doing 2:15's and better. I won't even say my lap time at LS in Feb cause it was my first track day..... ever.
I anticipate HUGE improvements, but Jimbo would still pass me like I'm driving like Marge
. 1:45 is not even on my radar, not even with the same tires. The driver is everything.
Had a turbo failure (shut off, not broken) for one session at buttonwillow and my lap times didn't change. Talk about an eye opener! But it sure would save my brakes, 'cause I didn't use them! Just WOT and drove miss daisy around the track. But SUPER illustrative about braking points (with real power), smooth lines, and realizing the GLA45 needs to drive the Porsche GT3 line, NOT the Miata line. It was like driving a Mercedes-Benz brand s2000.
Anyway, the learning lesson is that I'm not driving up to the car yet. Thus purchasing the springs and sway bars, and I'm back down to 355 HP. I much prefer 435, but it just doesn't translate to lower lap times for me yet. I end up just accelerating up to the corner, over braking, cruising around the corner, then WOT to the next corner. 355 HP will force better driving technique.
But I'm all registered up for LS, so I'm going! Gonna keep this up for 2-3 days a year. Goal is LS 2x and then another track 1x, like Thunderhill or BW or Sonoma, annually. Sooner or later I'll figure it out, but the truth is these days I'm not targeting lap times like Jimbo, I'm targeting technique. I figure the good lap times will come naturally once technique is internalized.
This will be especially fun cause I'm blue group now. I pass 90% of the greens and a few blues when combined, but being solidly blue puts me at the bottom of the pack all over again. Strong motivator not to be the arse at the bottom!